Calling All Sydney-Siders!
Raise your hand if you're confounded by curls! There's botticelli, corkscrew and corkicell; also cherub, wavy and s'wavy; and don't forget fractural, zigzag, tiny spirals, coils and twizzles. In a time when securing information often takes us down a dot com rabbit hole, it's hardly surprising that we fast become overwhelmed by everything offered up online.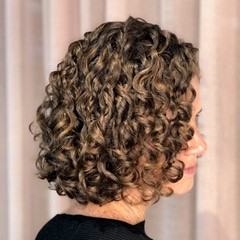 Curl specialist Kimberly Marks, of Yeah The Curls salon in Seaforth (located in Sydney's north), is all too familiar with the perils caused by an overabundant curl-care landscape curated on social media.
"The most important thing to remember when starting on your 'curly journey', is that simplicity is key. Try not to get too caught up in the Instagram world of complicated routines," she assured.
Her message –– which subscribes to a 'less is more' mentality –– should resonate with Curly Folk who feel they've been inundated with competing info. To those girls, she would like to emphasise that "a good haircut is really important, and at the beginning, you may need to lose a little length in order to improve your hair quality".
"Don't be disheartened," she warns. "One step backwards for two steps forwards!"
Kimberly's shiniest pearl of wisdom, however, is around hydration. It is the crux of any Curly Girl Method and a particular focus should be allotted to promoting it in the hair context.
"The most repeated piece of advice we give in our salon is, 'just add water'… Conditioner is a catalyst to help water into the hair shaft; conditioner alone does not hydrate hair. Each time you add conditioner, add water," she explained.
"Doing this will also cut your detangling time in half."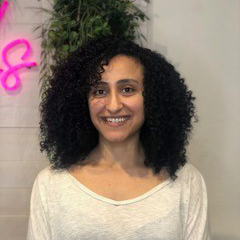 Clever Curl's product line not only includes a Light and Rich conditioner, but also Cleanser, Treatment, Wonderfoam, and Curl Cream, amongst other items (all sulfate and silicone free). For Kimberly, nothing tops the Humid Weather Clever and Dry Weather Clever Gels; her go-to goodies for the moisture they yield.
"Both Gels feel hydrating when you apply them to the hair. You don't need a lot; and the shine –– oh my gosh, the shine –– is amazing (and usually very hard to achieve on curls)," Kimberly said.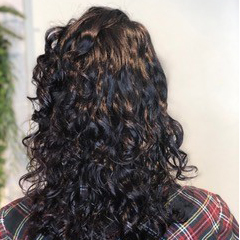 The Humid Weather variation is "fabulous" for fine hair with a good balance of moisture, while the Dry weather edition works wonders for porous hair unable to retain moisture easily.
Speaking of porosity –– it just happens to be one of the prevailing issues Kimberly is asked to address by clients. It refers to the hair's ability to absorb and retain moisture. Hair is usually classifiable as low, medium or high porosity, with 'low' indicating the hair cuticles are tightly shut, versus 'high', where they are more widely-spaced and 'gappy', thus compromising their capacity to retain moisture.
Yeah The Curls' clients are also interested in learning about their hair classifications as per the 2a–4c system of curl types, where '2' represents wavy hair, '3' curly and '4' coily. The a–c nomenclature is based on the width of the coil pattern.
So, why is this relevant? Well, ultimately, identifying one's hair type and texture will in turn govern an appropriate approach to curl care. Checking in with a curl specialist guarantees you garner answers for all your questions (we're sure you have plenty!) relating to hair texture, best-fit curl-care techniques and "how to refresh hair". Refreshing, in particular, is something Kimberly's patrons query on the regular! 
Yeah the Curls is Sydney's first dedicated Curly Girl Method salon. For Curly Chicks on Sydney's northern beaches looking to manage their tresses, this is absolutely the place for you. Head to see Kimberly and become learned in the art and ways of the quintessential Curly Girl. 
Book an appointment at Yeah the Curls today! Visit https://yeahthecurls.com/services/ or call 02 8095 0263 for more info.