WHAT IS Curly Girl Method?
Have you heard of the Curly Girl Method?
Do you know someone that is following the Curly Girl Method and you are keen to lean all about it? If you have thought of giving the Curly Girl Method a try but unsure what it is all about, let us here at Clever Curl help you with everything you need to become a Curly Girl.
 The team here at Clever Curl have been part of the Curly Girl movement since 2017, working closely with our Curly Girl clients to understand the needs of an everyday Curly Girl. 
As part of our research and development of our products, we also work very closely alongside professional curl specialist hairdressers servicing Curly Girl clients in hair salons across Australia. We even have our very own curl specialist hairdresser in our salon team that has been trained by Lorraine Massey herself!
Credit: Fleur Alison Hair, Hamlyn Heights, VIC 0412 742 221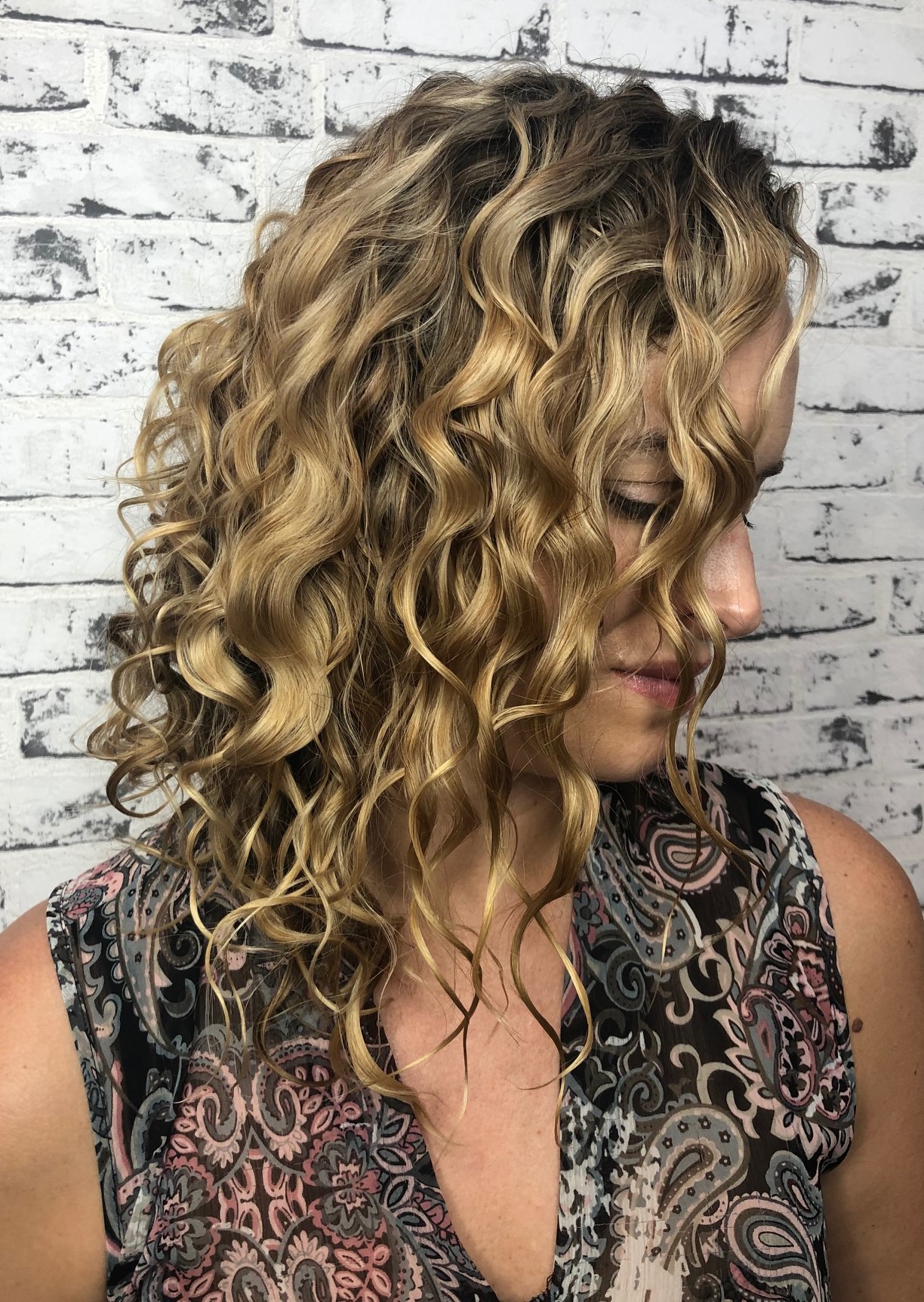 Credit: Avaia Hair, Mackay, QLD (07) 4942 8859
Lorraine Massey
The Curly Girl Method, also known as the CGM, is an approach to hair care designed specifically for naturally curly and naturally textured hair. The method is specific for hair that has not been chemically or heat straightened.
In 2001 the Curly Girl Method was introduced to a wider audience by hairstylist Lorraine Massey, in her bestselling book, Curly Girl: The Handbook. As a professional hairstylist and curl specialist, Lorraine has travelled the world sharing her passion and knowledge for the natural beauty that is curly hair.
Lorraine's inspirational and liberating book has become a bible for curly haired women and men all over the globe and here at Clever Curl  we encourage everyone to buy a copy and read it twice before you embark on your Curly Girl journey. Curly Girl: The Handbook is available from our friends at Curls Only.
The Curly Girl Method is a specific approach to the care and maintenance of all types of curly hair to enhance the natural beauty of the hair without the use of synthetic or cosmetic enhancements.
Curly hair is a beautiful and natural human feature that deserves to be admired and embraced.
The Curly Girl Method has proven that many conventional approaches to hair care and hair styling are detrimental to the natural health of curly hair. Let's discuss curly hair and the Curly Girl Method further.
Moisture is in the hair
Curly hair is more prone to dryness and frizz caused by atmospheric conditions than straight hair. Therefore, the basic aim of the Curly Girl Method is to ensure that the curls are always adequately hydrated allowing the curls to be naturally healthy, shiny and bouncy.
Hydrated curly hair will look fuller, cleaner, healthier and shinier without any unsightly frizz or fluffiness. So how do we keep curly hair hydrated? Here at Clever Curl  we have broken the Curly Girl Method down for you and we have Curly Girl approved products to help you achieve your curly hair dreams.
The foundation of the Curly Girl Method is to treat curly hair with the utmost respect using specific techniques designed to work with the curl not against it. These techniques have been created to work with the hair gently, minimizing damage to the hair cuticle and keeping the hair sufficiently moisturised at all times.
We know that curly hair is more prone to dryness than straight hair. We also know that adequate moisture obtained from water combined with the right curly hair products will accentuate rather than interfere with the hair's natural curl pattern. Curly hair bliss really is achievable!
Hair by Hope, Rowville,VIC  (03) 9755 6552
Go sulfate free
Modern day hair care products currently available on the market contain many ingredients that may be harsh to human hair and evidence shows that curly hair is easily disturbed by these seemingly simple ingredients.
It is common for regular hair shampoo to contain detergents and cleaning agents, known as sulfates, in order to clean away the dirt, grease, sweat and skin cells from the scalp and hair.
Some of these sulfates are so strong they are found in industrial cleaning products and engine cleaners. When used to clean human hair, these harsh cleaning agents cause two major issues; firstly the harsh ingredients disrupt the natural state of the hair cuticle causing it to be rough which in turn causes frizz and dryness; 
Secondly the use of harsh ingredients in hair care products like shampoo can strip away the natural oils produced by the body to moisturise the scalp and hair.
These two issues alone are the reason why conventional shampoo is not recommended for those curly hair people seeking to bring their curls to life. The avoidance of sulfates, along with any other harsh ingredients is an important part of the Curly Girl Method that should not be ignored.
The use of high quality hair care products that are sulfate free, like those found in the Clever Curl  range, is a step in the right direction when reducing the impact from harsh synthetic ingredients.
Go silicone free 
Another common approach with mainstream hair care products currently available on the market is to include ingredients that are designed to give the hair an improved cosmetic appearance.
Most commonly it is hair conditioners, hair treatments and hair styling products that include cosmetic enhancements however, shampoo can also be included in this group.
Some hair care brands add specific ingredients to the formula of hair care products with the sole purpose of dramatically improving the appearance of hair that is damaged and unhealthy.
These ingredients give the illusion that the hair looks healthy when in fact it is masking the hair with a coating. This process is causing long-term problems for a short-term gain.
These masking and film forming ingredients are most commonly silicones. There are many forms of silicone found in hair care products and this short list below shows some of the most common types. At Clever Curl  we are proud to state that all our products are silicone free.
The following list of silicones are not Curly Girl approved and should be avoided in hair care products:
Dimethicone
Cyclomethicone
Amodimethicone
Pheryl Trimethicone
Ceteraryl Methicone
Dimethiconol
Stearyl Dimethicone
Along with any ingredient ending with "cone"
When silicones are used in hair care products, they form a coating on the hair that needs to be removed the next time the hair is washed. To be removed from the hair, silicones require harsh detergents like sulfates and this harsh washing action causes damage to the hair.
It becomes a vicious cycle of washing the hair to remove the silicones yet to have more silicone deposited in the hair by the conditioner which then needs to be washed out yet again. The cycle goes on and the condition of the hair deteriorates rather than improves. Curly hair is particularly affected by this process.
Drying alcohols
The Curly Girl Method also incorporates key guidelines to help achieve the ideal level of hydration by removing anything that may cause the hair to dry out prematurely. This includes the removal of ingredients known as drying alcohols from the hair care products.
These ingredients are generally included in the formulations of hair care products because they help the product spread evenly through the hair and they evaporate quickly once applied.
This can be helpful in some cases, but this action is quite drying to curly hair and works against the principles of the Curly Girl Method.
Ethanol alcohol
Ethyl alcohol
Propanol alcohol
Alcohol denat.
Isopropyl alcohol
Isopropanol alcohol
Benzyl alcohol 
Credit: The Curl Next Door, Sunbury, VIC 0457 006 053
Fatty alcohols
Not all alcohols found in hair care products are bad, there are some alcohols that are considered good for curly hair. The good alcohols are known as fatty alcohols, or moisturising alcohols, and work in a different way to the drying alcohols we want to avoid.
These fatty alcohols work particularly well in hair care products that are designed for curly hair and are approved for the Curly Girl Method.
The function of the fatty alcohols is to draw more water into the hair and smooth the surface of the hair cuticle.  Clever Curl products are free from drying alcohols and feature the inclusion of selected fatty alcohols to improve the health of the hair and comply with the Curly Girl Method.
The following list of fatty alcohols are great for improving the health of curly hair and are Curly Girl approved for the use in hair care products:
Cetyl alcohol
Cetearyl alcohol
Stearyl alcohol
Lauryl alcohol
Heat damage
Curly Hair is easily damaged by excessive heat from hair styling tools such as blow dryers, curling wands and straightening irons.
For many years the fashion trends have focussed a shining light on perfectly straight hair with many celebrities being famous for their curl-free hair. A sad fact is that many everyday curly haired women felt the pressure to straighten their natural curls with the use of these heat styling tools in an effort to fit in and be seen as 'normal'.
The detrimental effect of repeated use of heat styling tools is significant and can take many years for the hair to repair. The Curly Girl Method advocates for very slow and gentle drying of the hair, preferably in a natural fashion without the aid of added heat. When heat is required to speed up the process it should only be with a hair dryer that has a low heat setting and a good quality diffuser attached.
The Curly Girl Method includes a very popular technique known as 'plopping' which involves a soft jersey cotton t-shirt being used to cover the hair while it dries naturally.
This Little Curl, Birkdale, QLD 0415 446 457
Care for curly hair
Similar to heat damage, curly hair can be damaged by the use of brushes, combs or regular bath towels. These items can damage the hair, remove the vital moisture of the hair and potentially create frizz.
The Curly Girl Method advocates for minimal contact with the curls and it is best to use the hands in a gentle fashion to encourage the curl. When the hands are used, special techniques are recommended to apply products such as shampoo, conditioner and styling gel. These techniques are known as 'praying hands' and 'squish to condish'. We will talk about those more in a moment.
The main steps of the Curly Girl Method
Let's look at the Curly Girl Method itself which can be broken down to 4 main steps. Each step of the Curly Girl Method comes with their own special techniques and some unusual terminology as mentioned earlier.
1. Cleanse – to wash the scalp and hair
2. Condition – to add moisture to the hair and smooth the hair cuticle
3. Styling – to encourage the natural curl in the hair and set the curls in place
4. Drying – to allow the hair to be completely dry and allow the curls to sit in their natural state
 Curly Girl Method terminology
No Poo Cleanse
The Curly Girl Method advocates for a gentle cleaning action of the hair and scalp. This can be done with a sulfate free botanical cleanser known as a 'no poo' product.
The unusual formulation of a Curly Girl no poo cleanser is designed feature to open the hair cuticle to allow cleaning, yet the entire action is carried out without a foaming action. 'No poo' means no lather (no bubbles or suds) and these products are neither a shampoo nor a conditioner. The Clever Curl Cleanser is formulated to be a 'no poo cleanser'.
Co-wash Cleanse
Another way to clean the hair and scalp within the Curly Girl Method is to 'co-wash' which means to conditioner wash. This technique requires no shampoo or cleanser to be used at any time, and a Curly Girl approved conditioner is used in place of a shampoo.
The idea is that the gentle cleansing action of the fingertips combined with the nourishing properties of the conditioner will gently remove any dirt and grease from the hair and scalp without any lather, thus minimising the agitation of the hair and possible disruption of the curl. It is important to note that if a Curly Girl chooses to co-wash it is with the upmost importance that the gentle cleansing action is worked through the entire scalp for  more than a minute.
The co wash process can't be undertaken with any variety of conditioner, the formula needs to be Curly Girl approved and capable of performing a light cleansing action whilst conditioning.
Squish to Condish – Conditioning
This is a technique that involves the gentle squeezing action of the hands when applying water and conditioner to the curls. This particular technique will help push water and product into the hair cuticle.
 When the mixture of water and conditioner is squeezed into the hair it ensures that the curl  is conditioned and completely hydrated.
Roping – Deep Conditioning
Another technique designed to ensure maximum hydration is achieved by utilising a hand motion similar to milking a cow.
Working from roots to ends and back again the hair is worked in sections and the mixture of water and conditioner or treatment is applied. This technique allows each section to penetrate as much water and moisture into the hair as possible helping achieve maximum hydration. This particular technique can be undertaken in a salon and at home on wash day.
Praying Hands – Styling
The application of styling products such as curl cream and curl gel must be applied with gentle action.
The praying hands technique is where the styling product is distributed across the palms of the hands, and then applied to the hair between both hands when together in a praying motion. This particular technique helps with distributing the product in the hair evenly.
Cast – Styling
Once the curl gel has been applied to the hair and allowed to dry it will be crunchy and the hair will feel like crispy noodles.
The gel has set around the hair shaft like a cast on a broken arm. This is known as a cast because it feels strong and hard to the touch but can be easily removed.
The cast is an important part to the method as it freezes in all the hydration and moisture from the previous steps in wash day and styling. A good cast will help the Curly Girl get more days out of their wash day.
Scrunch out the Crunch – Styling
Once the curl gel has dried completely and become a crunchy cast, it can be gently scrunched out of the hair with a squeezing action of the hands.
No brushes or combs are to be used. It is advisable to lightly wet the palms of the hands or apply a very light coating of Curly Girl approved curl cream to act as a gentle lubricant between the hands and the curls.
The gentle scrunching action will break the cast, remove any residual crunch and reveal the beautiful soft and bouncy curls. This is the moment the curly girl has been working towards. Naturally beautiful curls that everyone will want to touch!
Clever Curl is 100% CG Clever Curl was created by a group of Australian curl specialists inspired by the Curly Girl Method. The Clever Curl range is a highly specialised line of hair products carefully formulated to enhance and embrace naturally textured and curly hair. The entire range is closely based on the CGM and is 100% CG approved.
A full list of our Curly Girl approved products is also shown below.
Cleansing with Curly Girl Method
Choose to no poo;
Choose to co wash;
ABOUT CLEVER CURL
Created by a group of Australian curl specialists inspired by the Curly Girl Method. The Clever Curl range is a highly specialised line of hair products carefully formulated to enhance and embrace naturally curly hair to hold the personality and individuality of curls.
Clever Curl provides exceptional quality, clever ingredients and is completely dedicated to the care of all curl types in any environment.
Clever Curl is your curl's best friend!
CLEVER CURL HAIR PRODUCTS
All Clever Curl products are formulated with minimal ingredients to ensure that nothing gets in the way of beautiful natural curls.
Delivering moisture and the ability to hold a healthy hydrated curl are paramount functions across the range with the added benefits of Certified Organic Aloe Vera Juice and Rice Water Protein providing the perfect balance of nourishment and strength.
Clever Curl products are Australian Made, Vegan Friendly, Cruelty Free and made without sulfates, silicones or drying alcohols. The entire range of Clever Curl products are 100% CG (curly girl approved).
BUY CLEVER CURL
To purchase Clever Curl products, find your local Clever Curl stockist on our Stockists page, or visit our Official Online Store. Buy the best selling Clever Curl hair products and use zipPay to get your products now and pay later, with Free Shipping available Australia wide. You can also choose to buy Clever Curl products with Afterpay when you contact us at Clever Curl on our toll free number 1300 856 744.