Ballarat Salon Making Big Waves!
Too often, we're constrained by the 'must-dos' and the 'should nots'. We feel boxed in and obligated to follow the rules for fear of what might go wrong. Hair is but one area in which women are wary of making a misstep. When we're given the green light to just have a go and be ourselves? Well, needless to say, it's utterly invigorating!
Elise Taylor of Studio Hi Gorgeous in Alfredton (Ballarat), Victoria is championing this novel 'pick yourself up and dust yourself off' approach to curl care.
"I always encourage my clients to remember that there are no hard and fast rules… Experiment, try new techniques. Enjoy the great hair days, laugh at the fails, be patient, and most of all, have fun," she encouraged.
Her message of 'finding your own way' is not only resounding, but a lovely homage to women's younger days –– when styling hair was a labour of love and not encumbered by tens of guidelines or expectations.
"There are so many ways to care for curls, and it is important… to find a way that feels right for you," Elise assured.
"I get… clients asking if they are allowed to do a certain thing to their hair. My answer is always the same: 'it's your hair, you are allowed to do anything you like to it! I can make some suggestions, which can help give you optimal results, but… do with it what makes you feel good.'"
These 'suggestions' Elise discusses are worthy of contemplation and certainly implementation. As a curl specialist, she boasts a robust understanding of the eight sulfate- and silicone-free potions comprising the Clever Curl product line. Cleanser, Light and Rich conditioners, Wonderfoam, Treatment, Cream, and Humid and Dry Weather Clever Gels –– it's all available!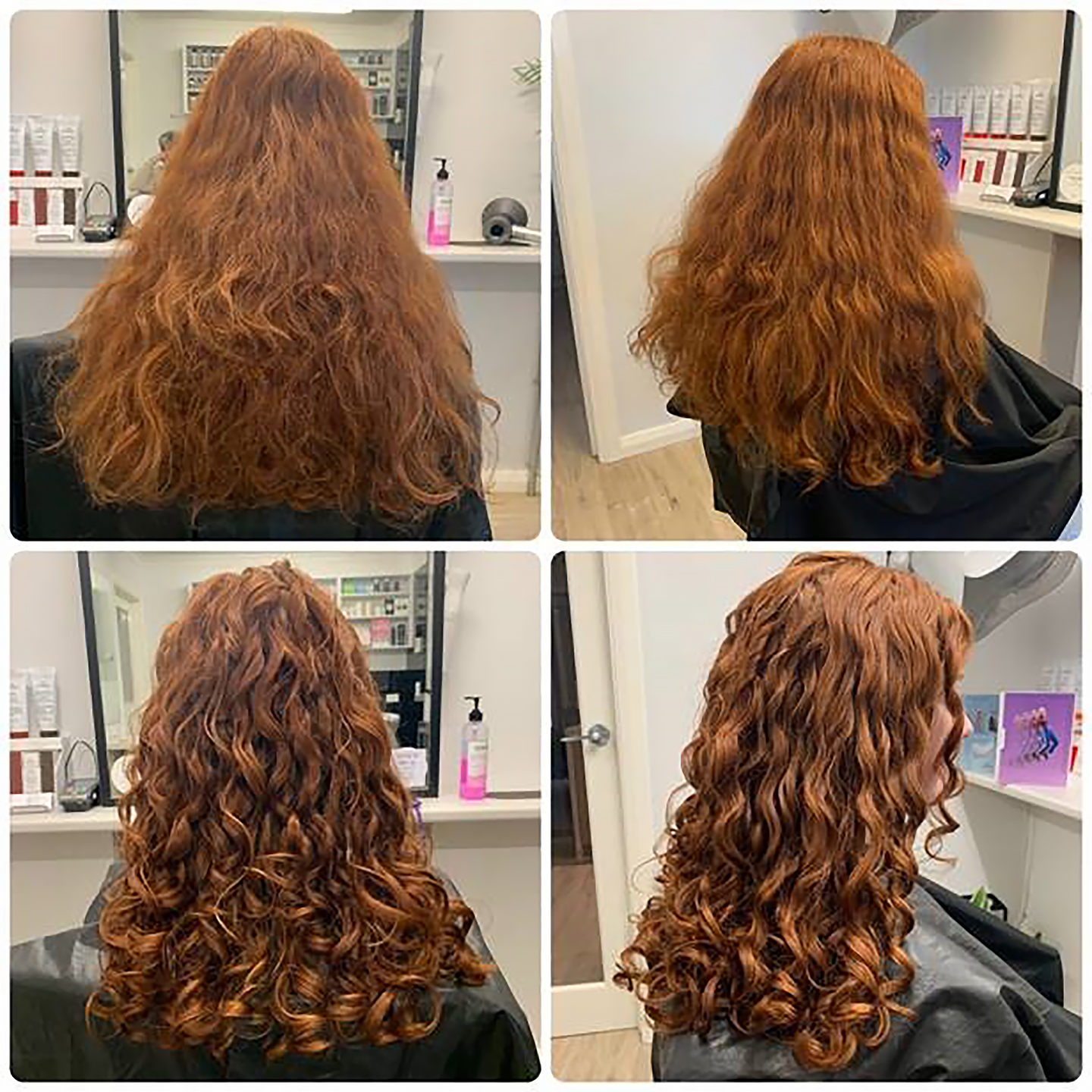 So, what are Elise's top picks?
"My two absolute favourites are Clever Curl Curl Treatment and Clever Curl Dry Weather Clever Gel," she revealed.
The former accomplishes the pinnacle Curly Girl goal of hydration in that it can be used as a deep conditioner or leave-in.
Elise is particularly partial due to the inherent 'slip' effect.
"It melts into sopping wet hair like nothing else! Curly hair seems to love it; and best of all, you only need a very small amount to get amazing hydration," she insisted.
The Dry Weather Clever Gel likewise attracts moisture, and in reverence to the product name, should be applied in drier climates. With humectant properties, this Gel provides a cast, thereby promoting curl definition. Added bonus: a super-slippery consistency that enables seamless distribution throughout the hair!
"It's just so easy to work with," Elise confirmed.
"Then, when the hair is dry, and you scrunch out the crunch, you are left with beautiful, soft, touchable curls. Perfect!"
Elise, like the rest of us, delights in bearing witness as curls metamorphose: crispy one moment, boundlessly chic the next.
"I will never get tired of seeing the transition from stiff, noodle-like squiggles, to full, bouncy, soft, shiny curls. It's like magic," she emphasised.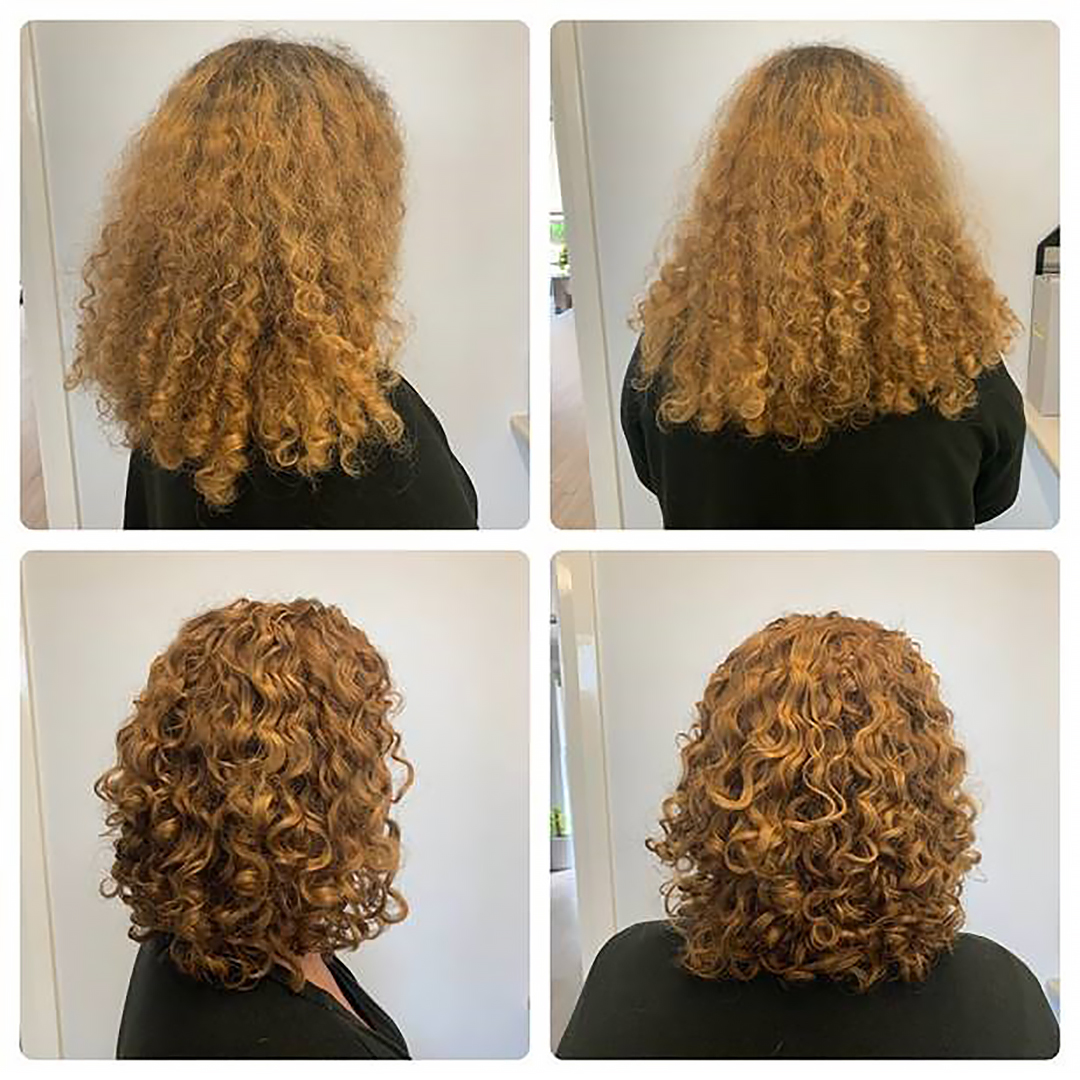 While great products are a veritable must, Curly Girls are advised to utilise them to their full potential by combining with proper technique. Elise's go-to is adapted from a method propagated by American curl aficionado Loni Jean Laffinier of Desert Curls Studio in Sparks, Nevada. Before applying gel, Elise will take to the hair with a Wet Brush Pro.
"This results in consistently-smooth, well-defined curls that last for days," she explained.
No need to tell us twice! The time to embark on your Curly Girl journey is yesterday. A visit to Studio Hi Gorgeous means a stellar treatment performed by a curl connoisseur armed and willing to impart precious knowledge. Elise can cut, cleanse, hydrate and style, all while educating you in best-fit curl management approaches.
Her ethos is special and spirit infectious; newly-anointed Curly Girls are sure to leave ready and rearing to nurture their God-given locks.
"It is an absolute privilege to empower my clients to fall in love with their hair; to give them the skills, tools, knowledge and confidence to embrace their own natural beauty," she maintained.
We couldn't have put it better ourselves!
Book an appointment at Studio Hi Gorgeous today! Visit https://www.fresha.com/studio-hi-gorgeous-au01u13k/booking?menu=true or call 0438 072 341 for more info.