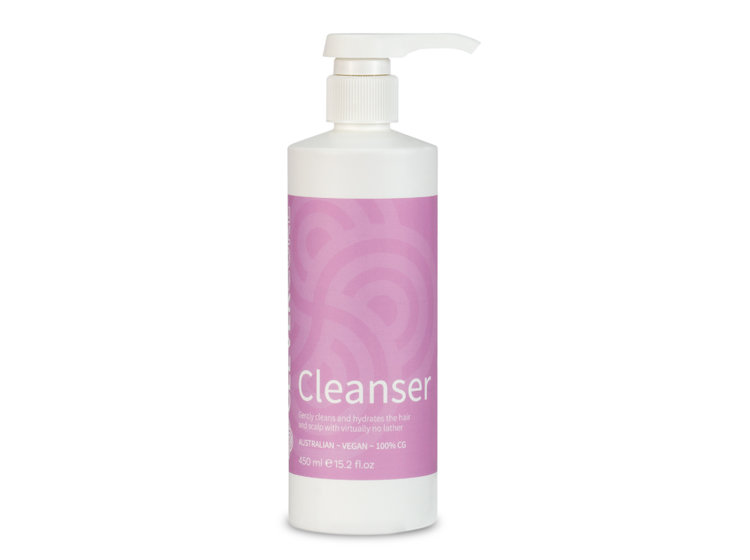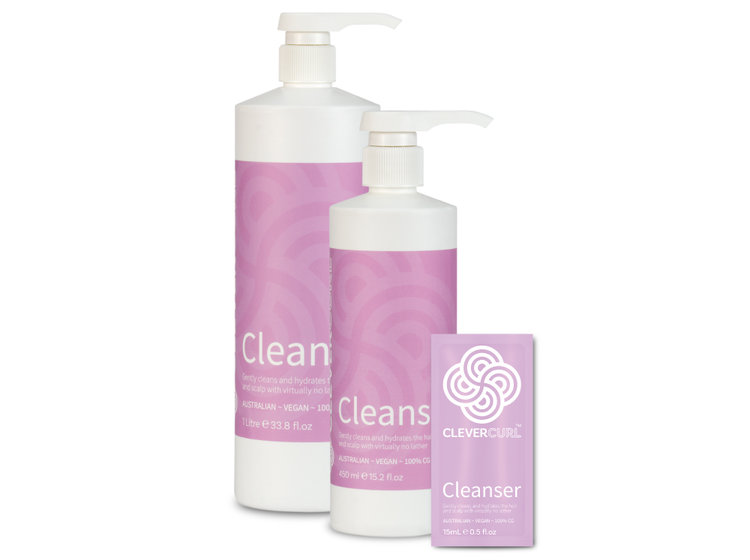 This clever cleanser is designed to work as a no-poo to gently clean and hydrate the hair and scalp with virtually no lather.
15mL Sachet $3.95
450mL $39.95
1Litre $69.95
METHOD:
Completely saturate hair with warm water to open the cuticle.
Apply to hands and distribute evenly in palms and fingers before applying to hair and scalp.
Massage into scalp with fingertips to remove product, dirt and oils. Add more warm water and let it run right to the ends, scrunching as you go. This technique will gently clean the hair and help activate the curl.
Rinse out with lots of water, making sure not to remove too much water and leaving the hair saturated in preparation for conditioning
TIP: Curls thrive with water so when rinsing be sure not to remove too much water and leave the hair saturated in preparation for conditioning.
INGREDIENTS: Certified Organic Aloe Barbadensis (Aloe Vera) Leaf Juice, Decyl Glucoside, Glycerin, Cetearyl Alcohol, Behentrimonium Methosulfate, Stearyl Alcohol, Hydrolysed Rice Protein, Panthenol Vitamin B5, Tocopheryl Vitamin E, Hydroxyethylcellulose, Citric Acid, Sodium Gluconate, Allergen-free Fragrance, Benzyl Alcohol, Salicylic Acid, Sorbic Acid.
82.7% Certified Organic Ingredients
SAFE FOR COLOURED HAIR
Australian – Vegan – 100% CG
"Very prompt delivery from your NZ stockist – Arrived next day – am loving the rich conditioner and planning which product to try next!!! Thank you for your help."
Chrissie, Facebook
2020
"At 60 years old, I never dreamt that I would have been able to regain the beautiful head of non-frizzy hair that I had in my 30's. But low and behold, received my Rich conditioner and Gell today. Followed my normal hair wash regime and WOW!!!, to say I am happy with the results is ab absolute understatement
BEST product I have ever used in 40 years. Thank you so much Clever Curl"
Facebook
2020
"Love love love your products…where have you been all my life!!! I've just found a new stylist (The Hair Lounge on Bourbong, Bundaberg, QLD) & your products for a great combination 💓I know I've got it right when I can get out of bed & not need to "do" my hair."
Emma, Facebook
2020
ABOUT CLEVER CURL
Created by a group of Australian curl specialists inspired by the Curly Girl Method. The Clever Curl range is a highly specialised line of hair products carefully formulated to enhance and embrace naturally curly hair to hold the personality and individuality of curls.
Clever Curl provides exceptional quality, clever ingredients and is completely dedicated to the care of all curl types in any environment.
Clever Curl is your curl's best friend!
CLEVER CURL HAIR PRODUCTS
All Clever Curl products are formulated with minimal ingredients to ensure that nothing gets in the way of beautiful natural curls.
Delivering moisture and the ability to hold a healthy hydrated curl are paramount functions across the range with the added benefits of Certified Organic Aloe Vera Juice and Rice Water Protein providing the perfect balance of nourishment and strength.
Clever Curl products are Australian Made, Vegan Friendly, Cruelty Free and made without sulfates, silicones or drying alcohols. The entire range of Clever Curl products are 100% CG (curly girl approved).
BUY CLEVER CURL
To purchase Clever Curl products, find your local Clever Curl stockist on our Stockists page, or visit our Official Online Store. Buy the best selling Clever Curl hair products and use zipPay to get your products now and pay later, with Free Shipping available Australia wide. You can also choose to buy Clever Curl products with Afterpay when you contact us at Clever Curl on our toll free number 1300 856 744.