The wait is finally over. No more sacrificing the health of your curls to maintain a bright blonde or a clean and radiant silver. From coloured hair to natural shades of blonde, silver and grey, Clever Curl Blonde Curl Treatment is here to rid your fabulous locks of any unwanted brassy or yellow tones while providing maximum moisture and hydration.
Is it CGM-approved?
With this treatment being specifically formulated for curls using 100% CGM-approved ingredients, you can now tone and brighten your hair within the Curly Girl Method.
Featuring our signature Certified Organic Aloe Vera and natural pigments derived from Red Sweet Potato and Blue Gardenia Berries, there's never been a gentler toner for curls.
Aloe Vera is commonly used to treat sunburn and other skin concerns, but it also offers a whole range of benefits to our hair and scalp such as building hair strength, soothing itchy, dry scalps, controlling sebum production and of course, maximum hydration.
Red Sweet Potato pigments are unique because they have extremely high colour stability. In other words, they have a more intense colour and a wider colour range than other deeply-hued fruits or vegetables. The sweet potato pigments even boast slight health benefits as they are mildly anti-inflammatory and anti-carcinogenic.
Blue Gardenia can be used across many applications including food and cosmetic colouring. Blue Gardenia is a bright and stable natural colour and can also be used to create additional natural colours such as green and purple shades.
How do I know it will work for me?
The Blonde Curl Treatment was designed for all hair types, from waves all the way through to Afro/Tight Texture. And from coloured to naturally blonde, grey, and silver curls.
Got wavy hair? Cleanser, Light Conditioner, Blonde Curl Treatment, and Wonderfoam.
Got thirsty, course curls? Cleanser, Rich Conditioner, Blonde Curl Treatment, Curl Cream, and Gel.
This Treatment can easily slot into any routine, no matter your curl type. In fact, even if you don't have curly hair, the Blonde Curl Treatment will still provide you with amazing toning and hydration benefits.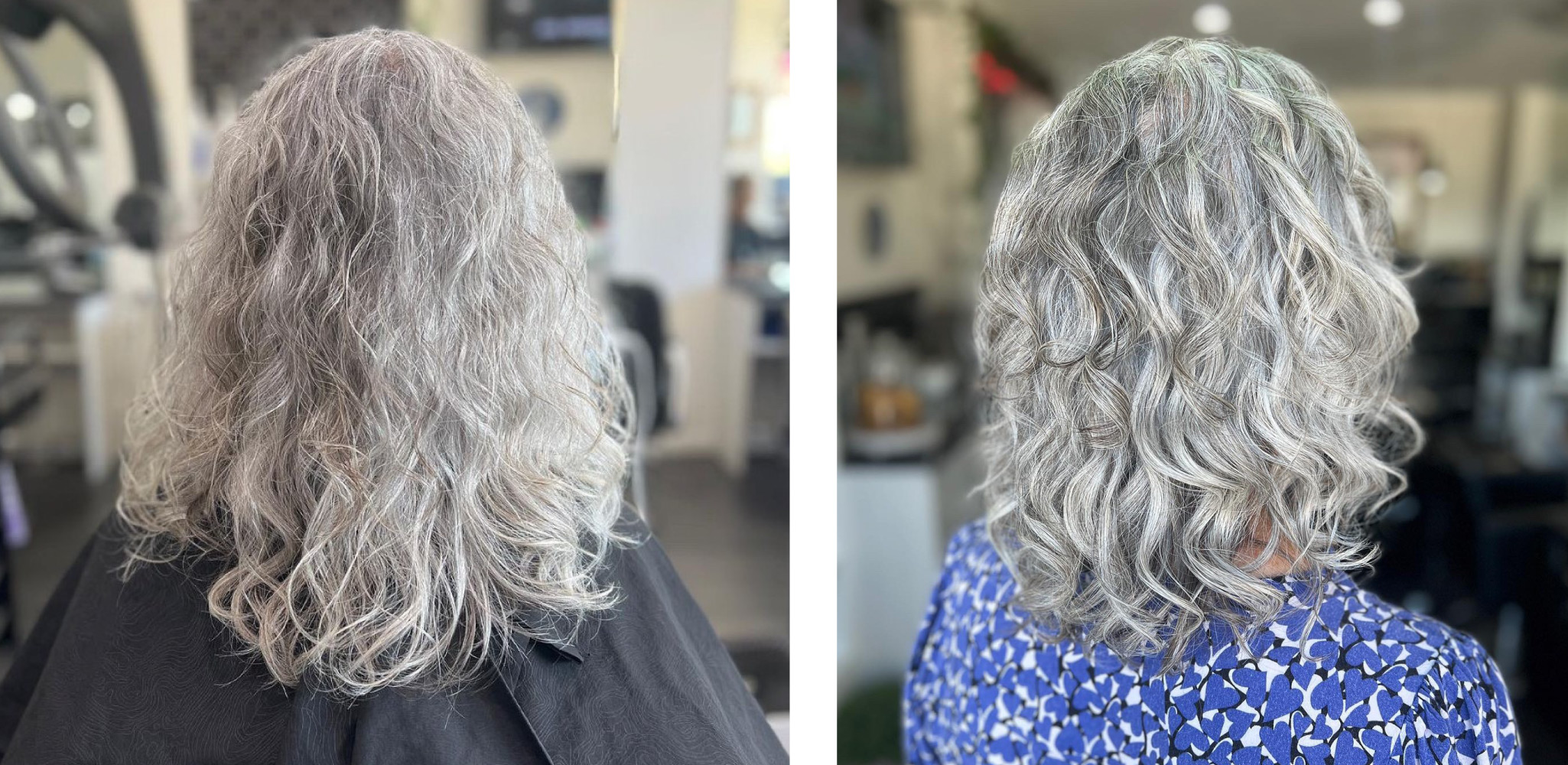 Jessika Moreira at @marciagibsons
How do I use it?
Our Blonde Curl Treatment is designed to be both a corrector and a maintainer. You can use this product in two different ways, depending on what your curls need.
For subtle toning results and to maintain your colour, distribute the product evenly through your hair with techniques such as raking and praying hands and leave in for 3 – 5 minutes before rinsing thoroughly.
If you are after maximum toning results to correct your colour, evenly distribute the product through your hair with techniques such as raking and praying hands and leave in for 10 minutes before rinsing thoroughly.
It goes without saying, the Blonde Curl Treatment is also going to offer you maximum hydration and moisture to maintain happy, healthy curls.
Where do I find it?!
Find the new Blonde Curl Treatment at your nearest Clever Curl Salon Stockist by visiting our Salon Stockist Locator. Just enter your suburb, call up your local salon and voila! P.S. It is refillable! So don't forget to take your bottle back when you need a top-up.
We also have a beautiful shopfront located in Coolum Beach, QLD where you can pick up the Blonde Curl Treatment and refill your bottles at a discounted price.
You can find the Blonde Curl Treatment online here.
We are so proud to have finally launched our Blonde Curl Treatment, a CGM-approved, ultra-nourishing, deep-conditioning treatment that reduces brassy yellow tones in blonde and grey hair. Never sacrifice the health of your curls again with the Clever Curl Blonde Curl Treatment 💜
If you are unsure of how to fit the Blonde Curl Treatment into your routine, we are here to help! Find us on Instagram @clever_curl or call us on our toll-free number 1300 856 744 and ask to chat with one of our in-house Curl Specialists.