4 step guide to the Curly Girl Method
Let's look at the Curly Girl Method itself which can be broken down to 4 main steps. Each step of the Curly Girl Method comes with their own special techniques and some unusual terminology as mentioned earlier.
1. Cleanse – to wash the scalp and hair
2. Condition – to add moisture to the hair and smooth the hair cuticle
3. Styling – to encourage the natural curl in the hair and set the curls in place
4. Drying – to allow the hair to be completely dry and allow the curls to sit in their natural state
 Curly Girl Method terminology
No Poo Cleanse
The Curly Girl Method advocates for a gentle cleaning action of the hair and scalp. This can be done with a sulfate free botanical cleanser known as a 'no poo' product.
The unusual formulation of a Curly Girl no poo cleanser is designed feature to open the hair cuticle to allow cleaning, yet the entire action is carried out without a foaming action. 'No poo' means no lather (no bubbles or suds) and these products are neither a shampoo nor a conditioner. The Clever Curl Cleanser is formulated to be a 'no poo cleanser'.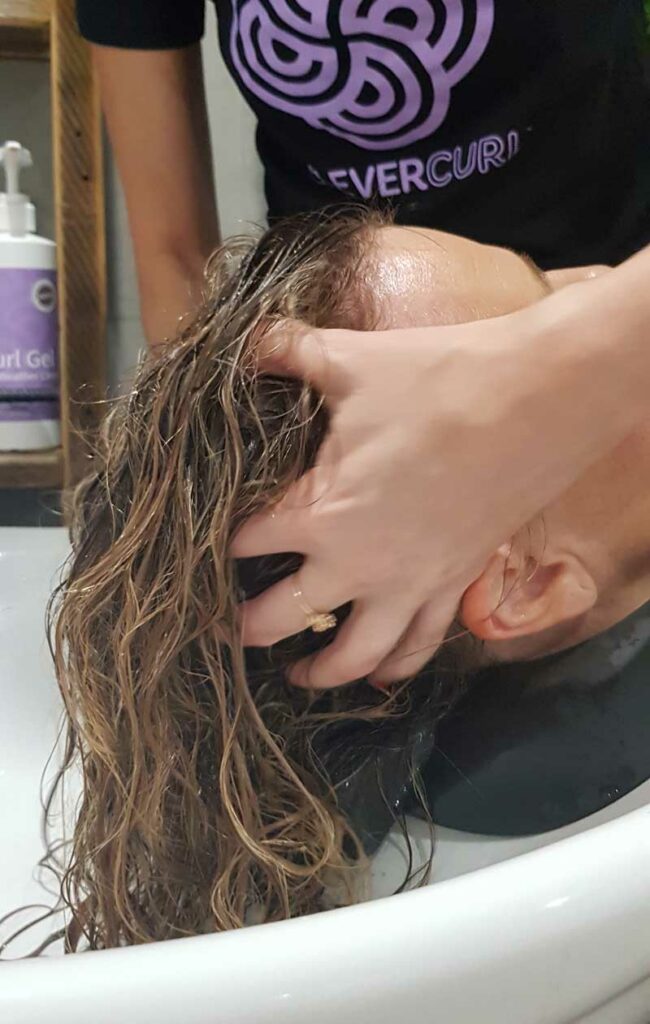 Co-wash Cleanse
Another way to clean the hair and scalp within the Curly Girl Method is to 'co-wash' which means to conditioner wash. This technique requires no shampoo or cleanser to be used at any time, and a Curly Girl approved conditioner is used in place of a shampoo.
The idea is that the gentle cleansing action of the fingertips combined with the nourishing properties of the conditioner will gently remove any dirt and grease from the hair and scalp without any lather, thus minimising the agitation of the hair and possible disruption of the curl. It is important to note that if a Curly Girl chooses to co-wash it is with the upmost importance that the gentle cleansing action is worked through the entire scalp for  more than a minute.
The co wash process can't be undertaken with any variety of conditioner, the formula needs to be Curly Girl approved and capable of performing a light cleansing action whilst conditioning.
Squish to Condish – Conditioning
This is a technique that involves the gentle squeezing action of the hands when applying water and conditioner to the curls. This particular technique will help push water and product into the hair cuticle.
When the mixture of water and conditioner is squeezed into the hair it ensures that the curl  is conditioned and completely hydrated.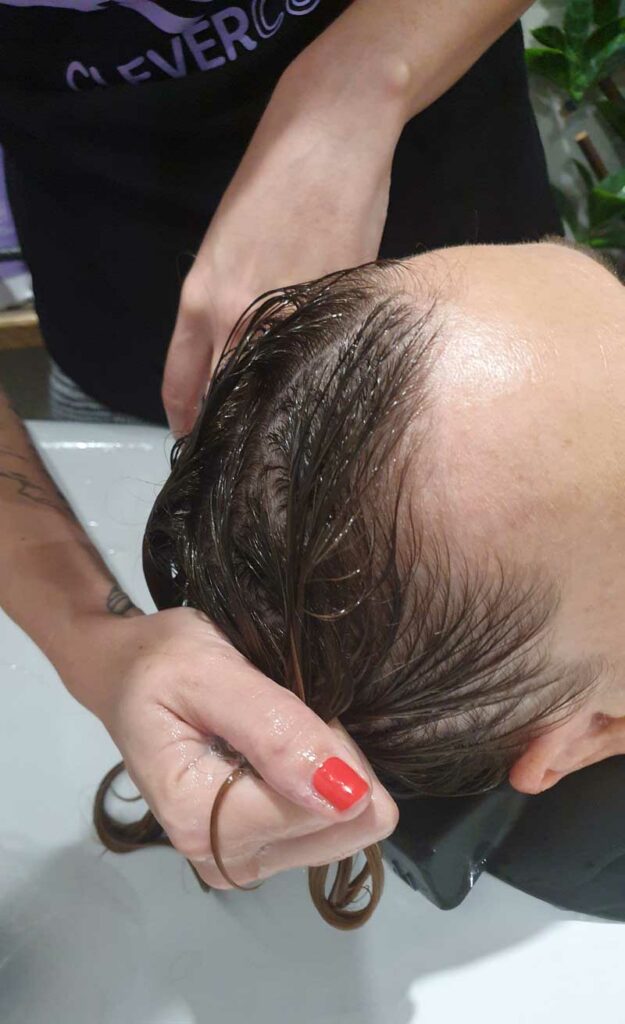 Roping – Deep Conditioning
Another technique designed to ensure maximum hydration is achieved by utilising a hand motion similar to milking a cow.
Working from roots to ends and back again the hair is worked in sections and the mixture of water and conditioner or treatment is applied. This technique allows each section to penetrate as much water and moisture into the hair as possible helping achieve maximum hydration. This particular technique can be undertaken in a salon and at home on wash day.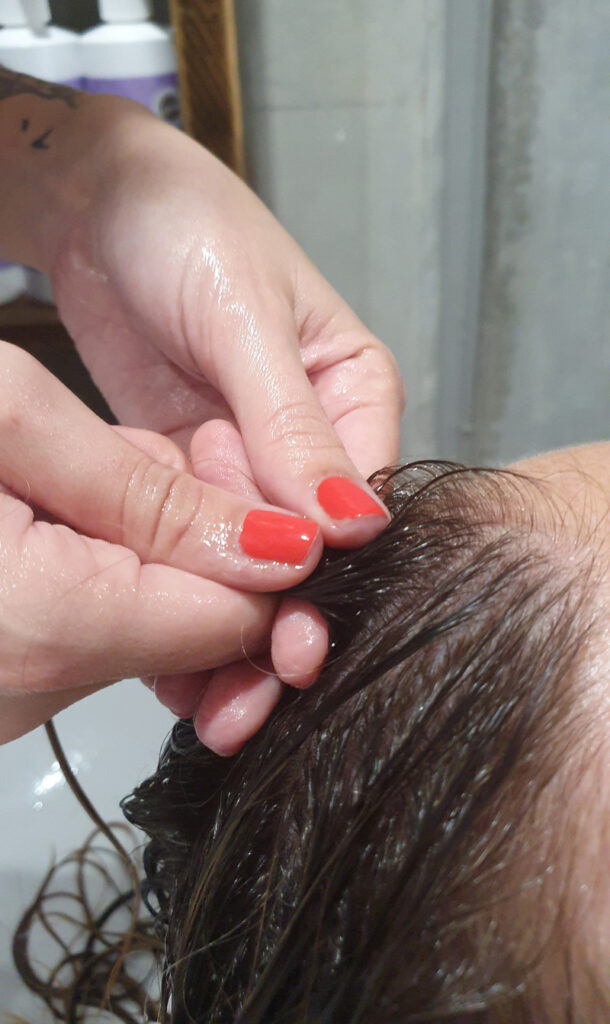 Praying Hands – Styling
The application of styling products such as curl cream and curl gel must be applied with gentle action.
The praying hands technique is where the styling product is distributed across the palms of the hands, and then applied to the hair between both hands when together in a praying motion. This particular technique helps with distributing the product in the hair evenly.
Cast – Styling
Once the curl gel has been applied to the hair and allowed to dry it will be crunchy and the hair will feel like crispy noodles.
The gel has set around the hair shaft like a cast on a broken arm. This is known as a cast because it feels strong and hard to the touch but can be easily removed.
The cast is an important part to the method as it freezes in all the hydration and moisture from the previous steps in wash day and styling. A good cast will help the Curly Girl get more days out of their wash day.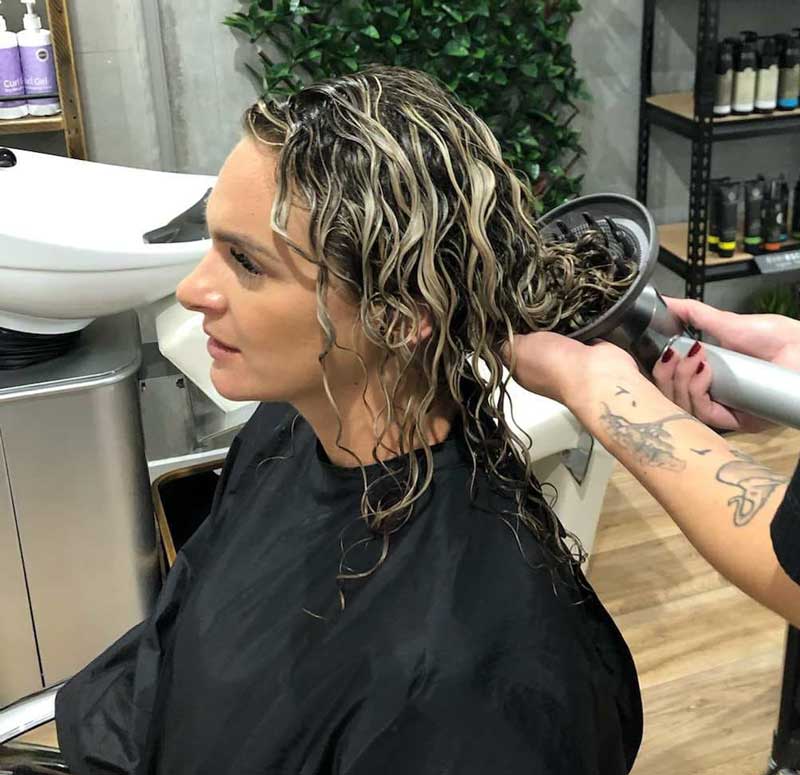 Plopping - Drying
A method used to gently remove excess water from the hair after it has been washed.
This method is usually completed by wrapping the hair in a cotton t-shirt or muslin wrap and allowing it to gently absorb the excess water from the hair. Simply flip your head upside-down, gather all of your curls, waves or coils at the top of your head and wrap them up to keep the curl pattern intact while your hair dries while wrapped for 5 – 15 minutes.
This heat free technique can help cut down on drying time without causing frizz or heat stress.
Scrunch out the Crunch – Styling
Once the curl gel has dried completely and become a crunchy cast, it can be gently scrunched out of the hair with a squeezing action of the hands.
No brushes or combs are to be used. It is advisable to lightly wet the palms of the hands or apply a very light coating of Curly Girl approved curl cream to act as a gentle lubricant between the hands and the curls.
The gentle scrunching action will break the cast, remove any residual crunch and reveal the beautiful soft and bouncy curls. This is the moment the curly girl has been working towards. Naturally beautiful curls that everyone will want to touch!
Refreshing - Styling
There are multiple techniques that can be used to refresh your curls at home. It is important to use techniques that work best for you and your curls. For example, praying hands smooths the curls and reduces frizz, while scrunching the curls will activate and encourage them.
Once you find a routine that works best for you and your curls, you will feel more confident in refreshing at home.
Some of our favourite refreshing techniques and combos are:
Add a small amount of Clever Curl Cream to a water spray bottle to create a diluted, hydrating refresh spray. Dampen hands and use your preferred technique to achieve curls goals. Either air dry, plop or diffuse.
With wet hands, apply a small amount of Curl Wonderfoam. Rub together to create a creamy texture in your hands and apply with your preferred technique. Air dry, plop or diffuse.
Dampen hair down with water or your Clever Curl Cream diluted spray, apply a small amount of your favourite Clever Curl Gel to wet hands and use preferred techniques to achieve curl goals. Finally leave to air dry, plop or diffuse until 100% dry before scrunching out the crunch (SOTC).
Pineapple
A technique used to conserve curls at night.
This technique is achieved by creating a high ponytail using a curl friendly scrunchie. The pineapple technique is widely popular due to the limited disruption the curls have while sleeping.
*Reminder
Your curls will need to settle again the following morning after being in a pineapple. For best curl results, take out your pineapple and gently shake your curls. This can be done upside down if desired.
Let your curls rest before applying your refresh techniques.
*TIP – You may also prefer to sleep in a silk bonnet or on a silk pillow case to preserve curl pattern overnight and mitigate friction which can lead to frizz.
Clever Curl is 100% CG Clever Curl was created by a group of Australian curl specialists inspired by the Curly Girl Method. The Clever Curl range is a highly specialised line of hair products carefully formulated to enhance and embrace naturally textured and curly hair. The entire range is closely based on the CGM and is 100% CG approved.
A full list of our Curly Girl approved products is also shown below.
Cleansing with Curly Girl Method
Choose to no poo;
Choose to co wash;
ABOUT CLEVER CURL
Created by a group of Australian curl specialists inspired by the Curly Girl Method. The Clever Curl range is a highly specialised line of hair products carefully formulated to enhance and embrace naturally curly hair to hold the personality and individuality of curls.
Clever Curl provides exceptional quality, clever ingredients and is completely dedicated to the care of all curl types in any environment.
Clever Curl is your curl's best friend!
CLEVER CURL HAIR PRODUCTS
All Clever Curl products are formulated with minimal ingredients to ensure that nothing gets in the way of beautiful natural curls.
Delivering moisture and the ability to hold a healthy hydrated curl are paramount functions across the range with the added benefits of Certified Organic Aloe Vera Juice and Rice Water Protein providing the perfect balance of nourishment and strength.
Clever Curl products are Australian Made, Vegan Friendly, Cruelty Free and made without sulfates, silicones or drying alcohols. The entire range of Clever Curl products are 100% CG (curly girl approved).
BUY CLEVER CURL
To purchase Clever Curl products, find your local Clever Curl stockist on our Stockists page, or visit our Official Online Store. Buy the best selling Clever Curl hair products and use zipPay to get your products now and pay later, with Free Shipping available Australia wide. You can also choose to buy Clever Curl products with Afterpay when you contact us at Clever Curl on our toll free number 1300 856 744.